Do you know what type of services Aon Krakow business departments provide? With Aon IQ series you will discover how our teams work and what value they bring to Aon United culture. Monika Mirowska-Kopec and her Retirement Solutions Business Unit opened the Aon IQ series in Q2. Now, I have a pleasure to welcome you to our department – HR Global Operations.
Let me start with my personal experience
What struck me 5 years ago when I joined Aon was definitely our unique culture that required a shift in the way I us​ed to work before and, frankly, I do like this change.
Firstly, our strong focus on cross teams' cooperation (Aon United) has a very practical implication - networking, collaboration is highly valued here, because no individual is as effective as a diverse team. What I appreciate specifically in HR Global Operations team is our consultative management approach - we do discuss, agree and calibrate each important decision within the management team and frequently also with colleagues' Committees to come up with the best approach.
Secondly, Activity Based Working model required me to change my working style completely: from the assigned room and desk to a new seat and companion discovered every day, from tons of paper and notes to a light, google-searchable OneNote.
Thirdly, I have never seen a company with such a clear growth strategy, focused on future market trends and customers' needs resulting in dozens of acquisitions and divestitures per year. Change is embedded in Aon's DNA, helping all of us stretch our flexibility and openness muscles. ​​



Meet HR Global Operations
Anyone who would like to work for Aon has to do with our team: from application, recruitment and selection, through background checking, job contract, transfers, promotions until terminations and retirement. We make sure that the colleagues' data is up to date in HR systems, required legal documentation is signed and archived and local and global policies are followed.
​HR Global Operations was originally established as Global Associate Resource Centre (GARC) in 2009 as a part of Aon Service Corporation (Shared Services). Since 2018 we are part of Aon Business Services. We are a truly global team of 120 professionals serving Aon across all geographies in 5 languages.
​There are 6 areas within HR Operations:
Workforce Administration, Background Checking and Talent Acquisition Operations create HR GO service delivery team. There are also other three specialized teams focused on projects and ​consulting such as Data Governance, Global Process and Solutions and Compensation Operations team.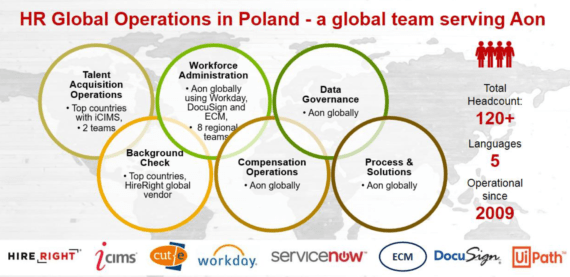 Our team members combine HR process expertise with technical knowledge of HR systems including Workday, iCIMS, DocuSign, ECM and ServiceNow.
What makes our team unique are our Committees and the way we cooperate with each other:  People & Culture and Upskilling Committees, Flying Squad, and several knowledge-based expert committees, including Workday Testing, Reporting, DocuSign & ECM, Mass Actions, SNow as well as our latest Continuous Improvement & Automation Committee.
Click on the picture to watch the video and learn how we operate in Krakow: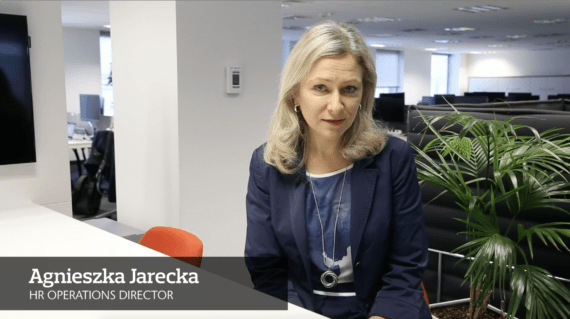 Isn't it exciting? Maybe you'd join us?