Return to the blog posts list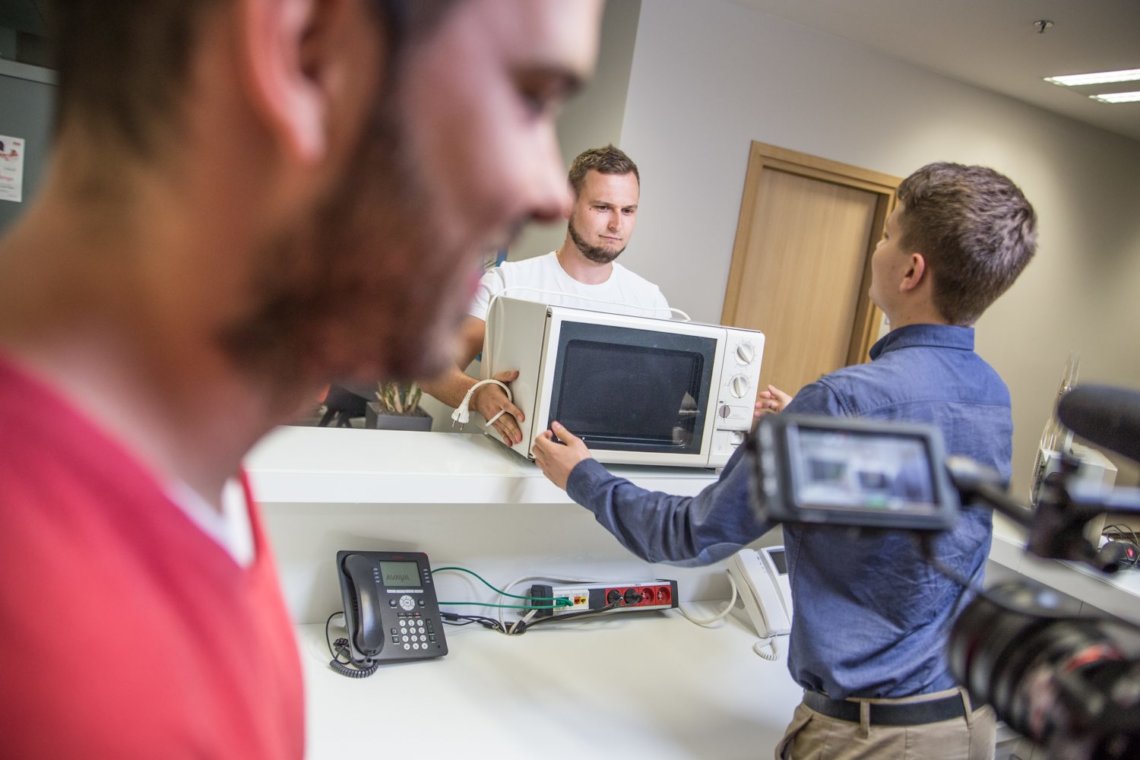 Jump, squeeze, touch and stand on. You normally don't do this kind of stuff to your office furniture, do you?
Maybe not – unless you have a task to test pieces of equipment, various chairs, and benches, all of which are designed to help you perform your everyday jobs. And what's more – if you want to let others see how they can benefit from such simple but important things as nice and proper office solutions – share a video with them!
Yes, that's what happened. No shortcuts. No denying. Aon colleagues became movie stars – captured on camera as we gave our new office solutions a full workout. For one special video, some of us had the chance to stand and act in front of camera.  It was fun, it was a challenge, but first and foremost – it served a purpose: to show everyone that we are going to rock these chairs (not literally, but who knows what happens next?).
It took one Saturday afternoon, a group of Aon volunteers, and a few professionals to stipulate and help with camera work. The outcome: a short video about people who work in a multicultural and multi-needs company – and who tested (and tested and tested… yes, camera craved for the best shots!) new pieces of furniture that we are going to use in our new building.
As you probably know (if you stay tuned to this blog), we are going to move very soon to Enterprise Park, and we already have a feel for how things are going to be there. But who would want to commit to final furniture orders without a little stress-testing first? That is why we invited different people from lots of departments to try out focus booths, cabin sofas, media benches, and more.
Will these new sit/stand desks really be the best option for those of us who are shorter? And for those who are taller – how comfortable will new cabin sofas be? Where's the best place to talk with a team? Or focus and concentrate away from others? Is there somewhere we can talk colleagues through a project? Or share results with as many people as possible? How many people can you fit in a cabin sofa? (You think that the maximum is six? Ay, think again, you will definitively be surprised!)
We also tried out the Tech Bar – the place where lives are saved by our IT guys. If you're unsure what kind of problems you can approach them with, just watch the video. There are no impossible things for them to solve*
*Maybe a few, but we will skip this part. They don't really need to know how to repair a typewriter, just the laptop please ????
But now, enough writing, it's time for the pictures to speak for themselves. Here is the result of our hard (and fun) work – the One Place video, to show you some, but definitively not all, of the possibilities connected with our new workplace solutions. Enjoy the screening!
Natalia Slupek
Return to the blog posts list