Return to the blog posts list

Have you ever wondered what does "Aon" mean? It is a Gaelic word for "Oneness". In practice it means that we, Aon colleagues, even though we are from different parts of the world, we create one community. No matter of our ethnicity, gender or believes we are One Aon. In such big group we need to care about both – Diversity & Inclusion.  We embrace and value being different and we create culture where everybody feels comfortable with whom they really are.
Many Lesbian, Gay, Bisexual and Transgender ("LGBT") employees find it difficult to be themselves at work while it is proven that not being open out about sexual orientation or gender identity can have a major impact on both wellbeing and effectiveness in the workplace.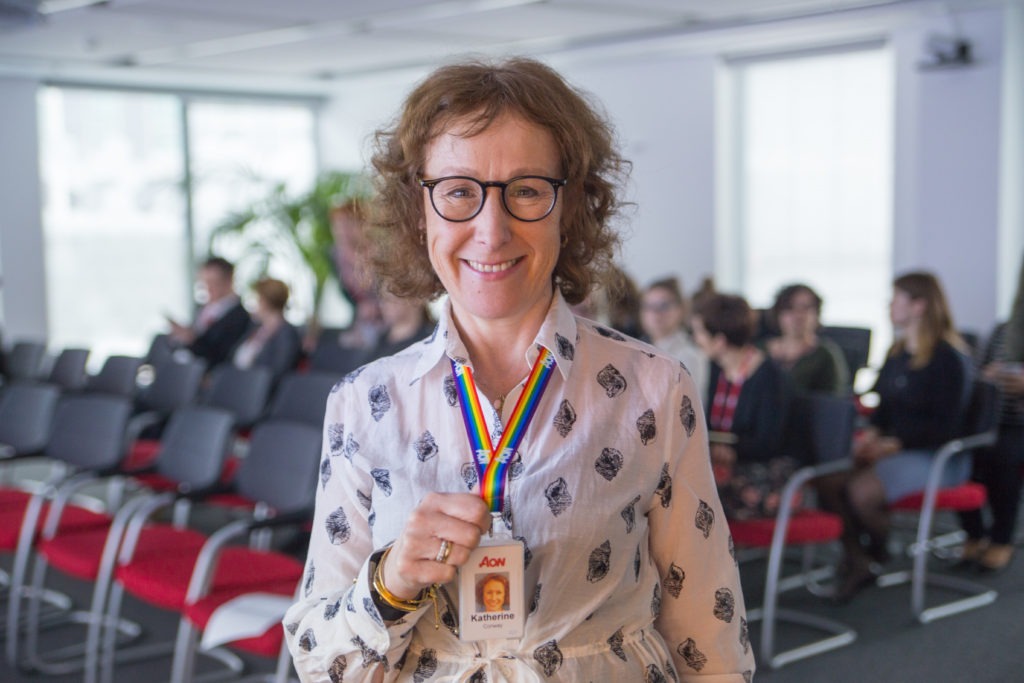 At Aon we believe that coworkers should feel able to bring their whole selves to work. This can be enabled by promoting a supportive, open and inclusive working environment and LGBT Allies play a crucial role in creating and sustaining this.
In March we had special guests from our UK offices. Katherine Conway, Head of Diversity & Inclusion and Community affairs, and Phil Sartain, Early Careers Lead visited Aon Krakow Centre to present the idea of LGBT Allies at Aon and talk about the importance of Diversity & Inclusion at work. That meeting was also an official start of Krakow colleagues' initiative aiming to show support to LGBT community.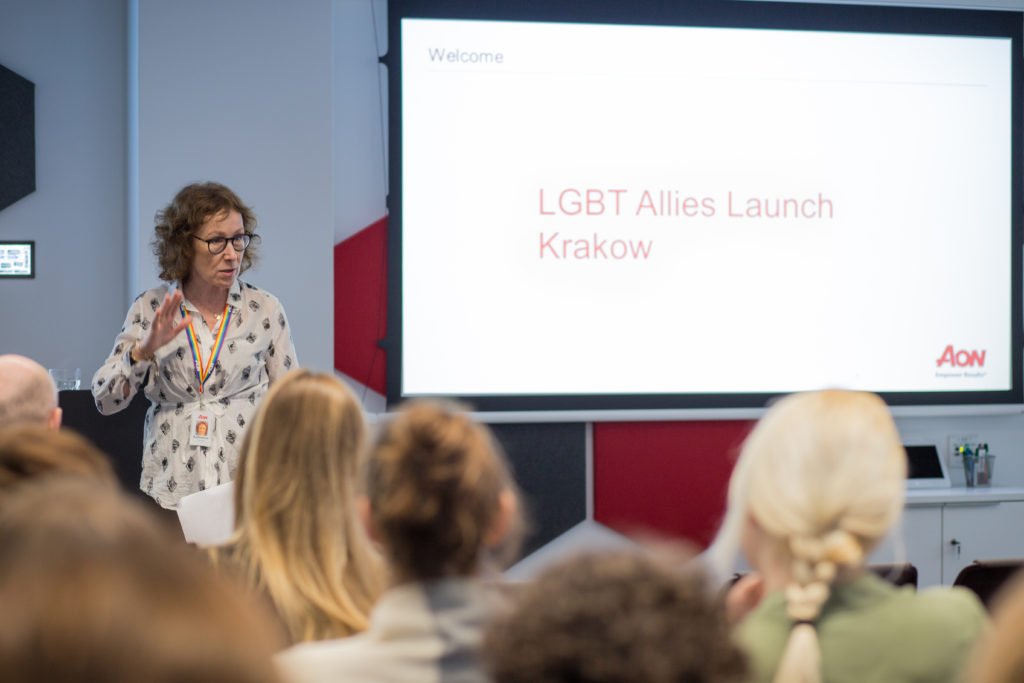 I am delighted that more than 350 Aon colleagues decided to pick up and wear rainbow lanyards – a sign of support for LGBT community and openness for all kind of diversities in our workplace! I'm happy and proud to walk around the office now and see that the rainbow ally is visible and contributes to making our work environment inclusive. What makes me even happier is our colleagues' positive feedback:
It's an important initiative for me personally. I've been there and I know that joining new community is quite stressful, knowing nothing about people you'll work with and thinking all the time what can you tell about yourself. Lanyard is a symbol, but a really meaningful one. It gives strong support when you come to work and see people with rainbow lanyards. It gives you the feeling that you are among people who welcome you just the way you are.

– Iwona
This new initiative is a real opportunity for me to better understand how LGBT colleagues might feel in our workplace. I know that I want to work in a safe, comfortable environment and I'd like that to be the same for everyone. The colorful badge can be therefore a great and simple way to signal LGBT colleagues that I support and value their input in our work. In short – better awareness and strong support are the core values important for me in this initiative.

– Krzysztof
When I first heard of this initiative, I decided to join immediately as a people manager and simply as a human being, believing that the diversity is a great value and in this crazy times it needs to be supported even more. Being an ally for me means not just standing close and offering help through some small day-to-day things, but also reacting to any kind of discrimination acts.

– Iwona
Return to the blog posts list