Return to the blog posts list

3 sweet and sour lessons I learnt while trekking in the Himalayas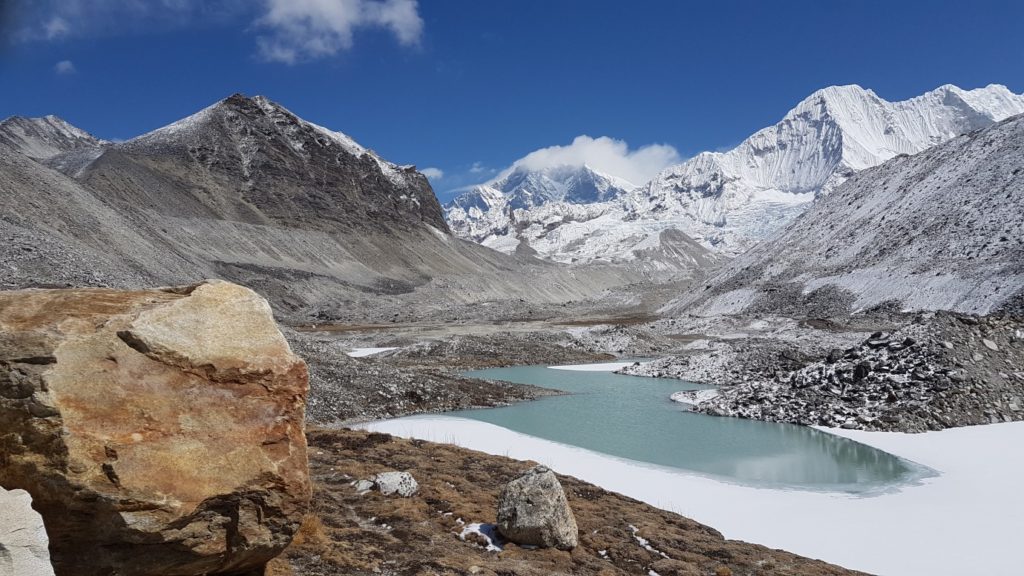 I have just come back from my once-in-a-lifetime dream journey to Nepal with a bunch of reflections. After 10 years since we first visited the Himalayas to see Everest from Gokyo and Kalapathar, we wanted to challenge ourselves more and climb two other peaks: Mear Peak (6,461 m  / 21,198 ft) – the highest official trekking peak in Nepal and a lower one, but more technical, Amphu Lapcha La (5,845 m / 19,176 ft). They aren't the highest peaks we have climbed but the trek itself was the most demanding and unique due to its length (17 days), weather conditions and the situations we experienced, which made me think about different aspects of life in a broader sense. Let me share a few observations I have made.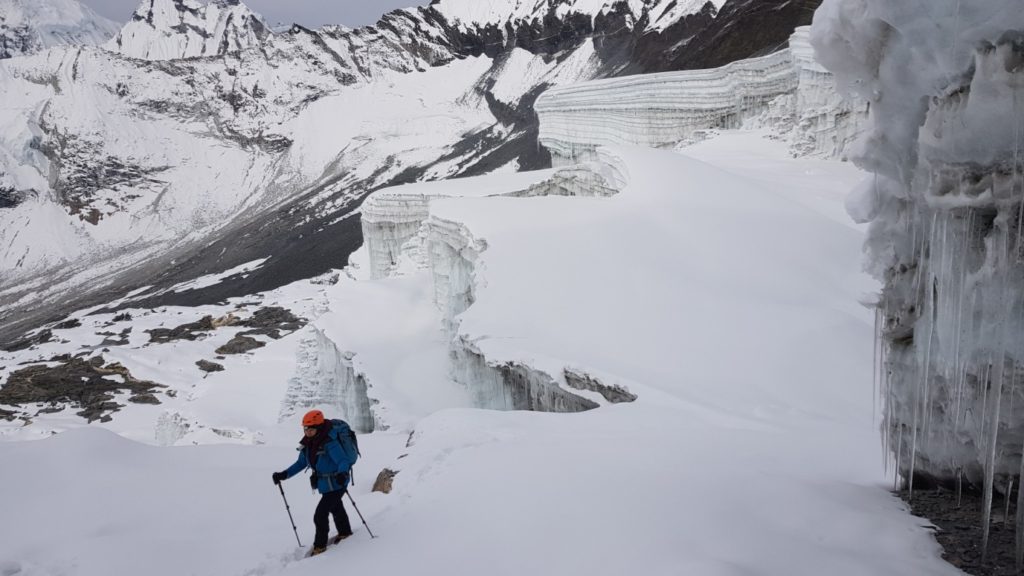 1. Tandem energy multiplication rule
Under favorable weather conditions Mera Peak should not be a huge challenge, of course except for the steep ice field ascent and the altitude, which you would prepare for by staged acclimatization. However,  fresh snowfall and heavy clouds may significantly slow you down, if not stop from reaching the peak. In our case, after 6 hours of the climb in the fresh snow, with the peak in front of us, the weather worsened, clouds came and it started snowing. Our guide didn't want to continue despite the fact that the goal was within our reach – we couldn't understand his approach – it was not justified at all.
My husband and I wanted to convince him that we really can continue our climb despite our tiredness and the weather. Based on our experience, the conditions were not as bad as to stop us.  It was just an excuse for him not to continue the tough climb. So we started arguing with the guide – when I was about to give up, my husband remained strong. When he started to let himself go, I got more energy to maintain our position. Overall, it was really hard to pretend to be strong and convincing after 6 hours of walk in the night, but without supporting each other and acting in tandem we wouldn't be so persuasive and determined.
Thanks to this experience I have discovered the law of tandem energy – if you are alone, your energy level fluctuates – it increases and decreases over time, so you are more vulnerable to the external pressure. However, if you share your goal with a partner, you can support each other in case one's passion and dedication drops due to a long and exhausting journey…
Therefore, if you would like to achieve something you really care about, find a supporter, a partner, who will fight for this goal with you – you will have much bigger chances to be successful together.  

2. Altitude sickness cap rule
For those who hike above 4000 meters above the sea level, proper acclimatization is a key success enabler and every day mantra. In order to adjust your body to high altitude you would not climb more than 800 meters higher that you have just slept, and would not sleep higher than 400-500 meter than the day before. Slowly, but persistently you can tackle whatever peak you want, if you give your body enough time to accommodate to low pressure and oxygen levels.
For the inexperienced or too ambitious who would like to climb high peaks in fast pace without respecting the high mountain rules of staged acclimatization, the punishment for impertinence is severe – from strong headache, dizziness, nausea, vomiting, fatigue, lack of sleep to pulmonary edema, cerebral edema requiring immediate descent and medical treatment to avoid serious injuries or even death. During our trek everyone suffered from altitude sickness more or less seriously. A couple of trekkers had to be rescued by helicopter due to critical health problems.
Similar rules apply to our career journey. The higher we climb the career ladder the more demanding the environment around us is. The best way to prepare for the new challenges is to expose yourself to small peaks, outside of our comfort zone, outside of our current altitude level.
Small but consistent stretched steps towards higher, more demanding goals are the best way to prepare yourself for a higher role, without risking immediate descent due to too little experience leading to failure or even serious health problems caused by tackling overwhelming pressure.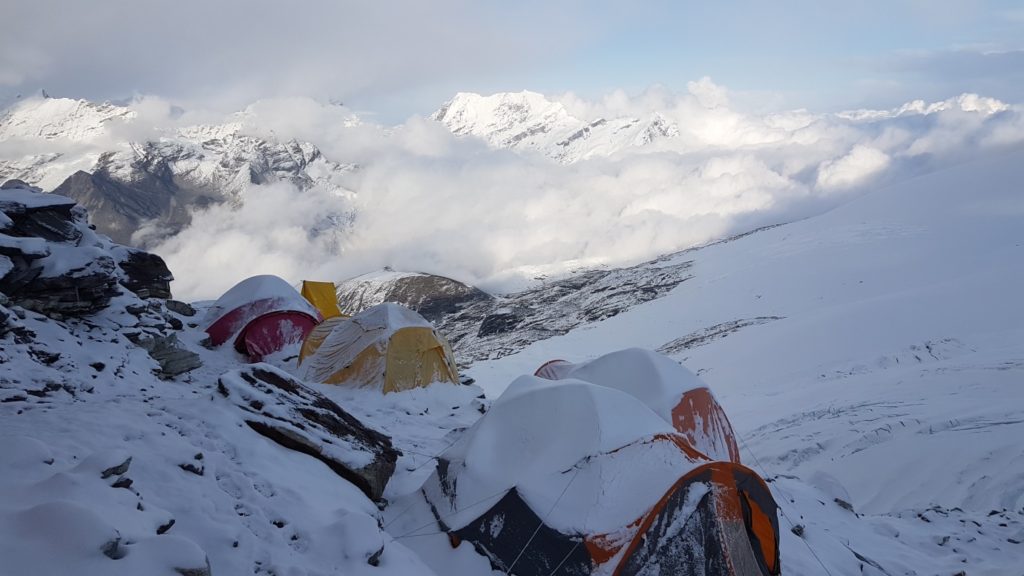 3. Dream validation rule
The comeback to the Himalayas had been my dream for 10 years – I kept in my memories stunning views, unrealistic beauty and dramatic mountains, much bigger and more picturesque than any other places in the world. Since our first hike in Nepal we climbed multiple other mountains on different continents, but the first such hike has always been the invincible reference point. Therefore, while planning the trip this year, we wanted to spend as much time as possible seeing the most remote and wild areas of the Himalayas we could reach out. Mera Peak and Amphu Lapcha La seemed to be the best choice –  17 days of trek, of which almost a week on a very rarely attended route, partly spent in tents with Everest, Kangchenjunga, Lhotse, Makalu and Cho Oyo views around.
Everything was exactly as we imagined – incredible views, fantastic weather in the mornings, wildlife, a lot of time to reflect on any aspect of my life…however, the effort required to keep up moving every day, strong cold, especially during the night, attitude sickness and overall fatigue made this trip extremely demanding… We completed our mission and climbed all the peaks we wanted, but it also consumed a lot of our energy and required quite some time to recover, so we will probably choose a less demanding trek or more relaxing destination next time (the Seychelles seem to be a better choice for next time… ???? )
So my final lesson  learned is about our aspirations – sometimes it is good to revise your targets, because you can probably achieve all you wish for, the only matter is the energy required to  attain your goal. Sometimes the cost may be quite high and you should be prepared to pay it. Let's be realistic about what we really want and what price we are prepared to pay – sometimes the dream destination, the desired role is just too expensive in terms of our energy consumption – let's be frank with ourselves!
Since my return to Poland I have been recovering and refueling  my energy and vitamin levels, and believe me or not, a hot shower and my warm bed make me feel really happy to be back home! You wouldn't appreciate simple creature comforts if you hadn't missed them for a while…
Return to the blog posts list