Over the course of 15 years, we became a completely different organization due to several changes, both small and big. Be it merges and acquisitions, transforming into Aon Hewitt or charting routes of big business structures as Alight and Kincentric. We grew from 5 colleagues back in 2005 working in Galileo Office to almost 1400 in Enterprise Park, and now we are successfully managing our work in a virtual environment. Currently, we are about to combine with Willis Towers Watson. All those changes are significant. They circle challenging but exciting and empowering milestones. Let us bring you through a timeline of how we grew and evolved from 5 to almost 1400 colleagues.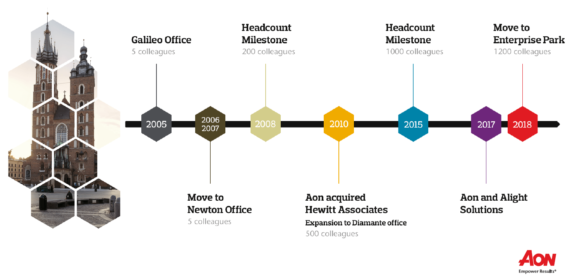 In 2005 Hewitt Associates hired its first employees in Krakow, opening an office in the Galileo building on Armii Krajowej Street. The office was so little back then that as Dominika Maduzia –  one of the first employees in Krakow says – 'The first question in the morning was always 'who has the key'?
In 2007 Colleagues relocated to a new office, Newton – next door to the Galileo building, on Armii Krajowej Street. According to Dariusz Pastuła, it was our first milestone. "It may sound as something insignificant, yet back there, the real estate market didn't exist in Krakow. There was no business centre, as we know it. Gallileo building was one of the most modern and prestigious ones. Then we started growing and had 250-300 employees located on 2 floors."
In 2010 Aon acquired Hewitt Associates and Diamante Plaza office opened in Zablocie. Some colleagues moved into Diamante Plaza, while others remained in Newton. We expanded to 500, and then to 1000 colleagues. While working on 2 locations, there were multiple internal groups and initiatives formed. In 2013 Colleagues united to renovate the orphanage building and garden in Sieborowice. From this point, supporting local orphanages became our annual commitment. In 2014, The Integration Committee formed to organize regular social events, from games nights to parties. Also, Aon Krakow held its first Sports Day and the first football match between Newton and Diamante offices, both for charity. In 2015 Aon Krakow supported Centrum Administracyjne no. 1: some colleagues fundraised to buy equipment for the orphanages, some worked voluntarily with the children. We did our best to make a difference. Later that year, the Aon United Committee formed to help bring colleagues together for work, charity and social events. And this is how we got to celebrate the 10th Anniversary in Krakow.
In 2016 two colleagues represented Aon and climbed Giewont Mountain to raise money for Centrum Administracyjne no. 1. In 2017 The last Newton vs Diamante football match was played as we planned to relocate to one office. Colleagues helped design the office space at Enterprise Park.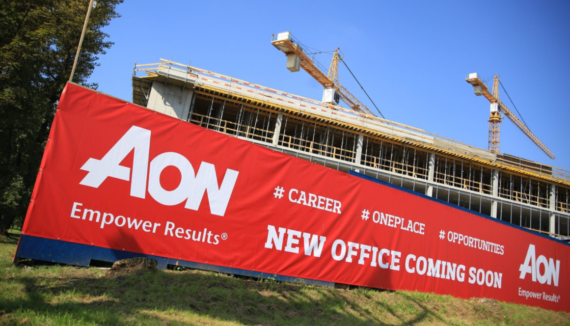 And here came year 2018 and our next huge milestone – combining 2 offices and relocation to the Enterprise Park within the scope of the
One Place project. From this point, Activity Based Working has been providing colleagues with a choice of places to work for a variety of workplace activities.
What's ahead?
As we move along our planning journey of Aon and Willis Towers Watson integration announced in 2020, the workstream teams continue to make progress in setting a foundation to bring together the best of both organizations. Dariusz Pastula: "I think that combining with WTW circles another huge milestone, it makes a new beginning. We're in a really good place right now; we're ready, experienced and very swift even with over 1300 employees currently on board. I see a bright future towards us."