Return to the blog posts list

Simple solution which supports quarantine!
As a proud representative of Generation Z, I was born and raised in the world dominated by technology. I've experienced not only conservative sources of entertainment (who remembers "Śmiechu warte"?) but also modern ones such as telephones, computers, internet. Gaming was not so obvious choice back then since it was hard to get a "western" console in the mid-90s or at the beginning of the 21st century, especially outside the biggest cities in Poland. It was considered a waste of time, waste of sight and waste of electricity. Regarding the salary level in Poland back then, western consoles or even powerful PCs were rare in the typical Polish household.
Now we can fast forward to the year 2020 because this article is not about the history of gaming in Poland. Obviously, we've come a long road when it comes to people's mindset, financial resources, availability of technology and games. We choose games because nearly every single game has its own unique history, graphic style, learnings, and challenges. But during the quarantine, the feature I find the most attractive is cooperation and local multiplayer modes. I can play with my family members, have pure fun, without being forced to think about the Covid-19 pandemic.
Why are cooperation games the best choice to start your gaming journey?
What's truly special about the co-op and local multiplayer modes in games? They are based on communication between players. As a team, you will succeed only by talking to each other, giving hints or insights, by sharing experiences. It works as long as you don't play against each other. In that case, communication doesn't matter. Most of the co-op games don't have expanded stories with plot twists, they are more task-based challenges where you have to be smart.
How to start?
Firstly, you have to be open-minded. It doesn't matter what type of gaming device you own. There is a bunch of excellent games on this list for nearly every possible platform including PC, PlayStation 4, Xbox One, and Nintendo Switch. You will find something to play on your platform with your kids, wife, husband, or even mother-in-law. Most of these games are "easy to learn, hard to master" which means you don't have to be worried you don't have enough experience with a gamepad or gaming itself. Next to a game title, I've added platforms where you can find the game, what type of cooperation mode the game uses, and the PEGI rating, which suggests the lowest age of a player.
There are two types of multiplayer:
Local multiplayer which means you can play with someone next to you
Online multiplayer which allows you to play with players through the Internet
You can find these games in the games store on your console. A game you purchased will download automatically to your device's hard drive.
What games do I recommend for starters?
Overcooked 2 - Xbox One, PS4, PC, Switch
Co-op type: Local and online
PEGI: 3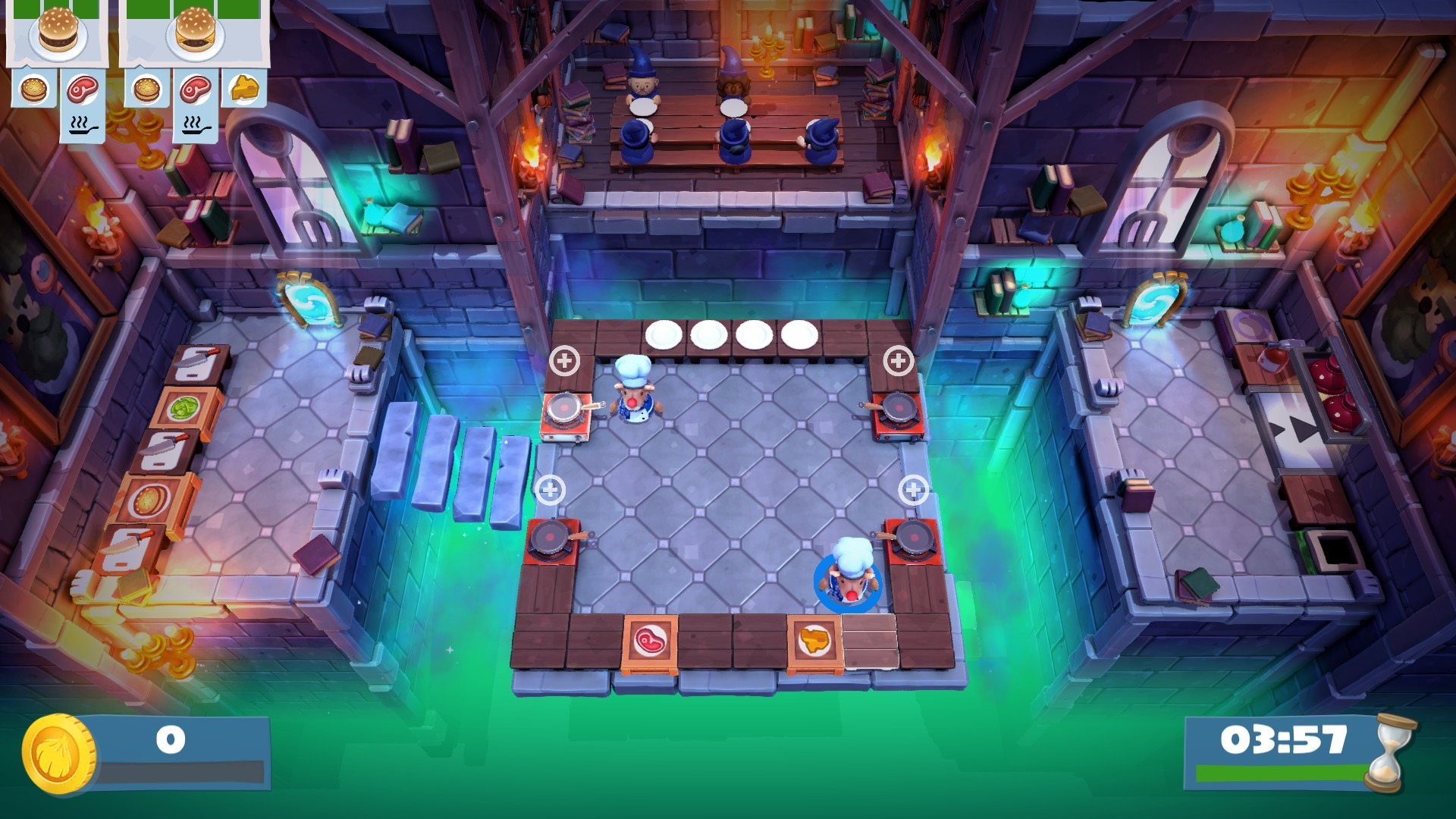 I have unique feelings towards this game. If I had to describe tough love, I would use this game as an example. Don't get me wrong, I totally admire how ingenious this title is. Sounds simple – you are a chef, you have to prepare some meals for hungry customers. Maybe it doesn't sound complicated and tempting, but when you try... Look, I would use this game as a tool to improve communication and team working abilities inside a team if I was a manager or consultant. What you may expect from the Overcooked is pure chaos. I totally love the fact that the gameplay is easy to learn, and difficulty is rising level by level. I totally recommend this game, and I am sure you will have tons of joy playing it with your closest ones!
Minecraft - PS4, Xbox One, Switch, PC, iOS, Android, PS3, Xbox 360, PS Vita, Wii U, 3DS
Co-op type: Local (on console and PC) and online
PEGI: 7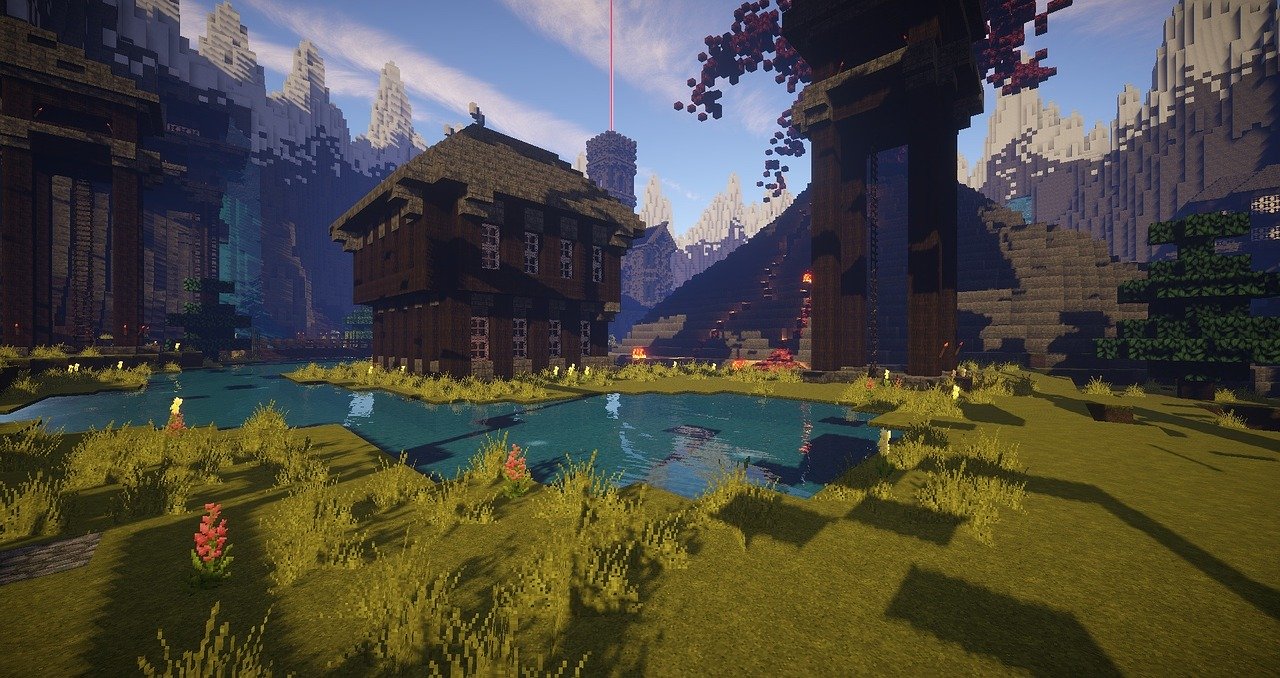 I remember when the test version of Minecraft was released in 2009, my parents could not believe that teenager spends tons of hours hitting blocks and building... buildings instead of my regular habit of playing RPG, MMO or sports games. Believe it or not, but it's (too) easy to sink in this block world. Every kid recognizes Minecraft. The mechanics are straightforward, but Minecraft is like an unlimited sandbox – you can build whatever you want, you can do whatever you want to do. If you are still wondering why this blocks game is one of the most popular games on Twitch streams, give it a try. At least your kids will be satisfied!
A Way Out - PS4, Xbox One, and PC
Co-op type: Local and online
PEGI: 18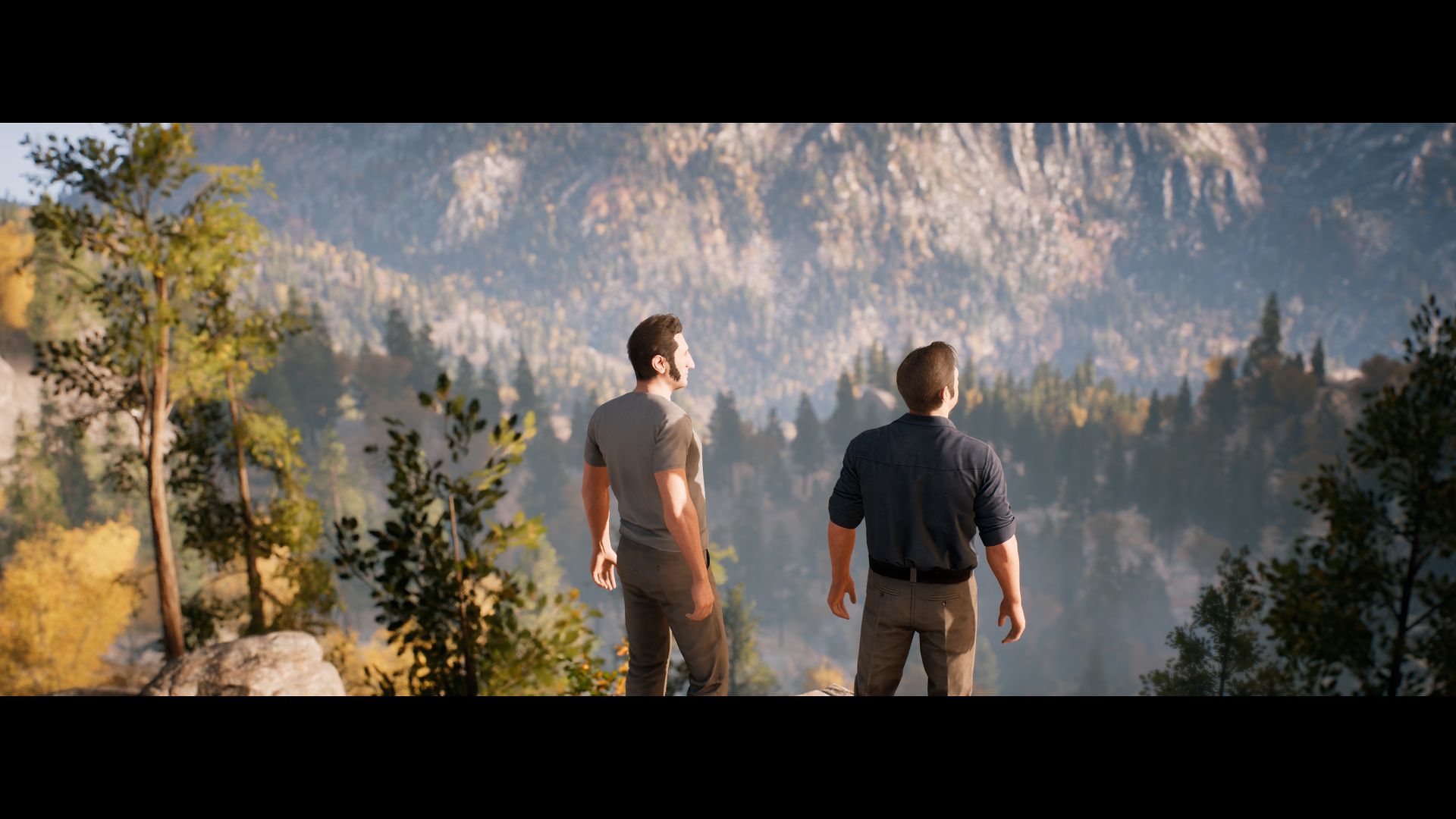 A Way Out made quite a noise when it came out. It is hard to spot a game, which is "co-op only". The story is about two criminals trying to find a way out of prison and looking for redemption. You will find activities like splashing the water to usher fish to each other, going back to back to shimmy up a wall gap, passing a chisel between cells to find an exit route, or even a game of basketball. The most important factor why I recommend this game is the fact that the cooperation mode in an axis of the game instead of implementing co-op mode as an addition. Probably the best co-op game I've ever played. Not recommended for younger folks!
Moving Out – PS4, Xbox One, PC and Switch
Co-op type: Local
PEGI: 3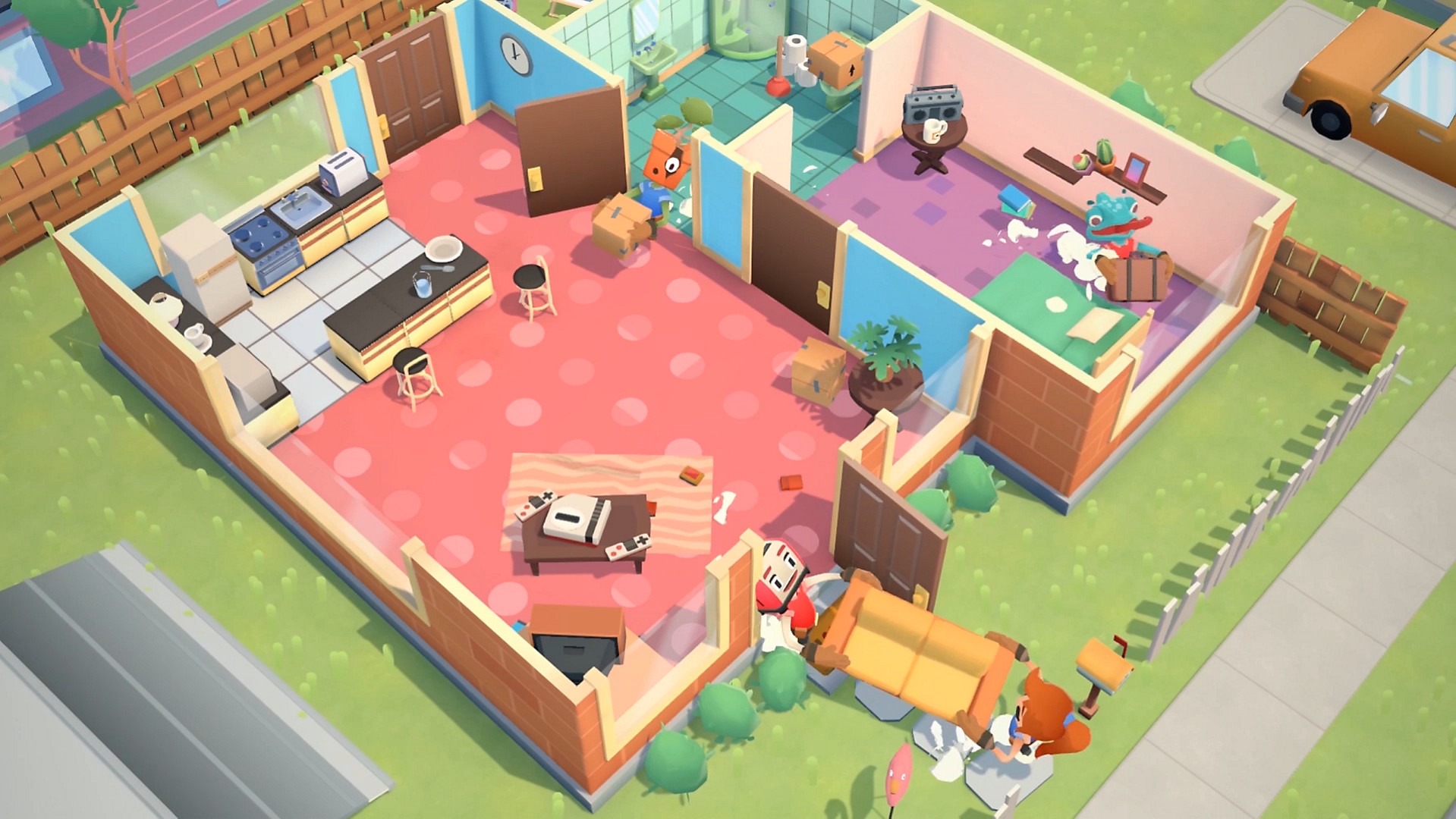 Always wanted to work in the transport industry, helping people to move out to their new flat? No? It doesn't matter, because this game will make you eager to do that! In Moving Out you will work as one of the workers of the Furniture Arrangement & Relocation Technician company. Mechanics of this game is really easy, but like in the Overcooked 2, due to the time pressure, you need to communicate with other players to pass a mission. Especially that you will need their help with heavy pieces of furniture. Great fun throwing furniture and catching running chairs!
The special recognition goes to...
Animal Crossing: New Horizons – Switch
Co-op type: Local and online
PEGI: 3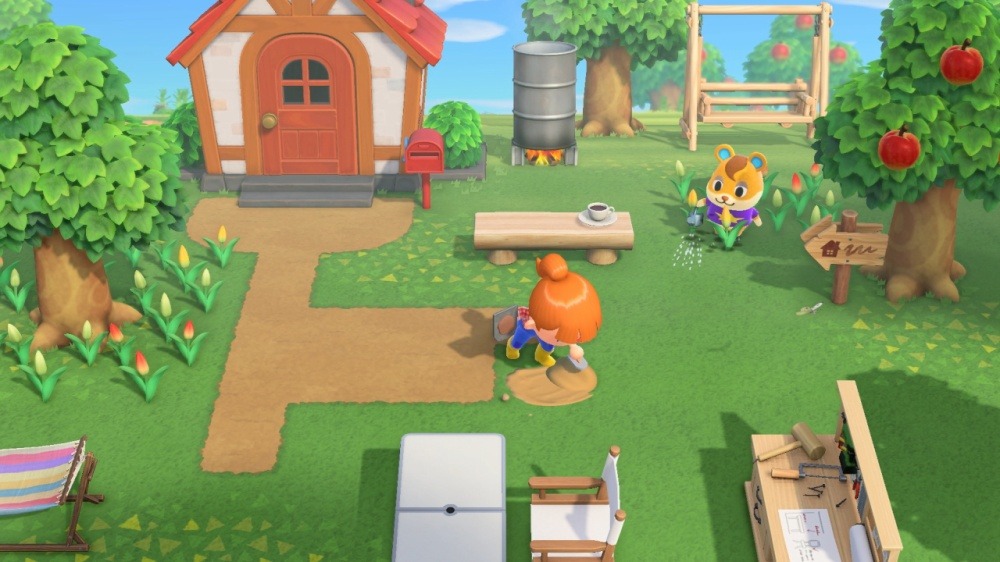 Back in the days as a person who was not included in the Nintendo ecosystem for years (I do not count games on the Polish fake NES console "Pegasus"), I missed the development of Animal Crossing series. I gave it a try and no doubt it is addictive! In the Animal Crossing: New Horizons your customized character moves to a deserted island where you and a bunch of animal-like characters start from the scratch. It is a real-time simulation, so in-game time is the same as real-time. It is a great game to play alone or with someone else. It is a great journey overall!
I hope you will find this list helpful during this challenging COVID-19 moment. If you are not into games, it is an excellent start for you to taste the gaming world. Cooperation games will make it only happier because, in the end, happiness is only real when shared! 🙂
Return to the blog posts list